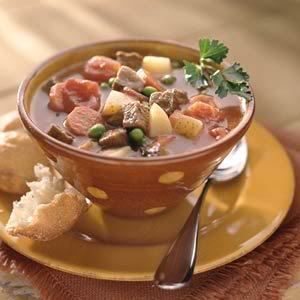 I love the Pasta e Fagioli soup they serve at Olive Garden and a friend of mine gave me this knock-off recipe for it. It's really delicious and filling on a cold day, especially with a grilled cheese sandwich. Although they're not called for I also add potatoes to mine and then actually it's more like vegetable beef soup I still call it my.........

SPAGHETTI SOUP
1 1/2 T. olive oil

1 lb ground chuck
or stew beef
3/4 cup onion , chopped
1/2 cup carrots, slivered
2 cups red potatoes, diced
1 cup celery, diced

1 small can. tomatoes w/green chilies, canned, diced

1 can dark red kidney beans, drained
1 can white kidney beans
, drained

32 oz. beef broth ( I make mine with Knorr's beef boullion cubes)
1/2 teaspoon oregano

3/4 teaspoon pepper
1 Tablespoon fresh parsley, chopped
1 sm. jar spaghetti sauce flavored w/ meat
( I use Ragu`)
1/2 cup dry pasta ( elbow, shells, twists, etc...)
Saute` beef in olive oil in large pot till it starts to brown. Add onions, carrots, potatoes,celery and tomatoes. Simmer for 10 minutes
or until onions are translucent but not brown. Add drained beans to the pot. Also , add beef stock, oregano, pepper,
spaghetti sauce and simmer about 45 minutes. Add dry pasta and simmer another 8-10 minutes or until pasta is done but not soft.


Serve with cornbread or for a really impressive service, cut the tops off individual french hard breads, about 1/3 down.
Scoop out bread from inside and fill with soup. Serve scooped out bread on the side.