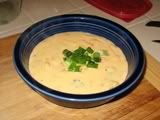 When the snow is piled knee deep to a tall indian, it's time for some soup! Especially
after
you've been outside shoveling snow. Or just on a cold winter morning, this soup will make a great meal and really warm ya up. You might want to mash a few of the potatoes to make it thicker , and I add 1 Knorr's chicken bouillon cube to mine for extra flavor. A dollop of sour cream on top is great too.
LOADED BAKED POTATO SOUP
2 1/2lbs Red Potatoes, the small ones (approximately 15 chopped into 3/4" - 1" pieces)
1/2c minced onion
1/4c Land O Lakes butter, melted
2 to 3 tsp flour (for thickening)
1/2 tsp salt, pepper,& garlic powder
1/2 pkg. Oscar Meyer real bacon pieces...(2.8 oz bag) ( I prefer real bacon, about 4 slices, crumbled)
8 oz pkg shredded Monterey & cheddar cheese..(already mixed bag) ( I used mozzerella only)
14 oz can chicken broth
1 pint heavy whipping cream
1 bunch green onions plus tops, sauteed` in a little butter (for garnish)
sour cream (optional)
Boil potatoes and set aside, saute onions in butter, thicken with flour to make a roux , add chicken broth and cream.Fold in the potatoes and cheese, add bacon and simmer on low just long enough to melt the cheese.