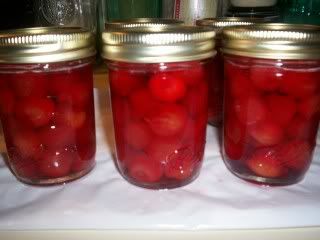 These homemade Maraschino Cherries are fabulous! I used Rainier cherries instead of the Bing cherries that are called for because they're sweeter. I'm including a great recipe for White Chocolate & Cherry cookies along with the recipe for the homemade cherries. I think these will make terrific cookies or a pineapple upside down cake.
HOMEMADE MARASCHINO CHERRIES
3 lbs firm tart red cherries
8 cups cold water
2 tablespoons ascorbic acid, crystals
1 1/2 cups water
3 cups sugar
2 tablespoons red food coloring
1 tablespoon almond extract
Directions
Remove pits from cherries. Combine 8 cups water and ascorbic acid. Stir until crystals are dissolved.
Add cherries to the solution. Don't allow the fruit to remain more than 20 minutes. Rinse fruit; drain well.
Combine 1 1/2 cup water and sugar. Bring to a boil. Stir in food coloring and add the cherries.
Reduce heat; simmer for 5 minutes. Cool completely, allowing cherries to soak 24 hours.
Next day, bring to a boil and then stir in almond extract.
Pack hot cherries into hot jars leaving 1/2 inch head space. Shake jars to get firm pack.
Bring syrup to a boil and ladle hot syrup into jars. Process in water bath for 15 minutes for 1/2 pint jars.
WHITE CHOCOLATE CHERRY COOKIES
* 2-1/2 cups all-purpose flour
* 3/4 cup sugar, divided
* 1 cup cold butter, cubed
* 1/2 cup finely chopped maraschino cherries, drained
* 12 squares (1 ounce each) white baking chocolate, finely chopped, divided
* 1/2 teaspoon almond extract
* 2 teaspoons shortening
* Coarse sugar and red edible glitter
Directions:
In a large bowl, combine flour and 1/2 cup sugar; cut in butter until crumbly. Knead in the cherries, 2/3 cup white chocolate and extract until dough forms a ball.
Shape into 3/4-in. balls. Place 2 in. apart on ungreased baking sheets. Flatten slightly with a glass dipped in remaining sugar. Bake at 325° for 10-12 minutes or until edges are lightly browned. Remove to wire racks to cool.
In a microwave, melt shortening and remaining white chocolate at 70% power for 1 minute; stir. Microwave at additional 10- to 20-second intervals, stirring until smooth.
Dip half of each cookie into chocolate; allow excess to drip off. Sprinkle with coarse sugar and edible glitter. Place on waxed paper until set. Store in an airtight container.