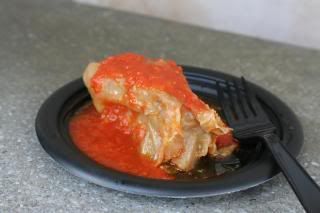 About 15 years ago I had the pleasure of discover-
ing a New Orleans Chef, Gigi Patout, who put a new twist on an old favorite of mine. Cabbage rolls with lagniappe (pronounced "lah-nyahp"), a southern Louisiana word meaning "a little something extra", and these definitely have something extra! They can be prepared ahead of time, refrigerated or frozen, and re-heated the next day. Serve these up with a big ole pone of cornbread and watch 'em disappear before your very eyes! The secret to this delicious dish is not cooking the rice before you add it to the meat mixture.
MAW-MAW'S CAJUN CABBAGE ROLLS
Bring a large kettle of water to a boil Core a large head of cabbage and place it in the boiling water, base side down. Remove each leaf as it loosens with a slotted spoon and place on paper towels to drain.
In a large bowl, mix together:
1 pound ground chuck
1 teaspoon each of salt, cayenne, and black pepper
1/2 teaspoon white pepper
4 cloves garlic, minced
1/2 cup each chopped green onions and parsley
Add up to 2 cups raw rice.(I use only 2/3 cup)
Line a roasting pan with a single layer of cabbage leaves. Form the mixture into rolls about 3" long and 1" thick and wrap each
one in a cabbage leaf, tucking in the ends to seal the moisture in and lay then in a single layer in the roasting pan on top of the
cabbage leaves, seam side down.
Mix together:
2- 8 oz. cans Rotel tomatoes
32 ounces tomato sauce ( I use a quart of Beefamato juice)
Pour over the cabbage rolls and cover with a layer of the remaining cabbage leaves. Bake at 350 degrees F. for about and hour, or until done.
To test for doneness, remove a cabbage roll and taste the rice. It should be tender. If the liquid in the pan gets below the level of the cabbage rolls, add a little water or more tomato juice. When done, transfer cabbage rolls to a platter with the leaves and thicken the broth left in the pan slightly. Pour over the cabbage rolls and serve.
NOTES:

I sometimes use wild rice in place of the long grain white rice.