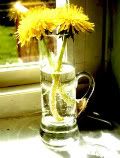 Dandelions in a Jelly Glass
(or Mother's Day Dinner)
Long years ago, when I was young,
I whiled the happy hours
with siblings, as we romped among
the early spring wildflowers
.In May we gathered dandelions,
competing with each other,
and coveted our precious finds,
presenting them to Mother.
Her eyes lit up, and how the praise
did warm each little heart!
When lunch time came, our gold bouquets
such sunshine would impart,
In a jelly glass as centerpiece,
evoking mood so cheerful.
Our childish bickering had to cease,
no eye continued tearful.
Today, my daughters, city bred,
with manners fine and proper,
By highest, loving motives led,
have spent hours shining copper
And polishing the silverware-
the table must be gracious.
Appointments laid with utmost care,
My heart's not here ~ the spacious
Sunny halls of my old home,
and pastures red with clover,
Are calling me once more to roam
through childhood days long over.
I tell the girls that I'll be pleased
to decorate the center.
At last their call comes, much relieved,
the dining room to enter.
My loving children lead me in
and stopping, stare aghast;
They look and then they look again,
at dandelions ~ in a jelly glass?
In loving memory of the author, my friend and mentor, Grace Luella Peterson Perry