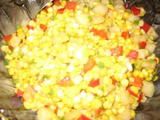 I made this at the request of a friend who had had this salad at a family restaurant once and although I didn't think the taste of corn in mayonnaise would be a taste I would like, I was very pleasantly surprised. And the friend said it was tha "bomb", which, i'm told, meant it was "delicious" LOL

CORN CONFETTI SALAD
* 1 can (15-1/4 ounces) whole kernel corn, drained
* 1 medium tomato, seeded and diced
* 2 tablespoons chopped green onion with blades
* 1/3 cup mayonnaise
Directions:
In a small bowl, combine all ingredients; mix well. Cover and refrigerate until serving. Yield: 4 servings. I tripled the recipe to serve about 10 people.
NOTE: I used a plum tomato because they are meatier, but any kind will work well, just get all the

seed out.
AND HERE IS ANOTHER VERSION OF A CORN SALAD THAT IS VERY GOOD

CORN SALAD
Ingredients:
* 2 cups fresh or frozen sweet corn
* 3/4 cup chopped tomato
* 1/2 cup chopped green pepper
* 1/2 cup chopped celery
* 1/4 cup chopped onion
* 1/4 cup prepared ranch salad dressing
Directions:
In a large salad bowl, combine vegetables; stir in dressing. Cover and refrigerate until serving. Yield: 8 servings
It's almost time for some outdoor cooking and eating and I learned a great trick last year about making corn on the cob.



Instead of boiling it in water. Try soaking the ears in water, husks on, for about 30 minutes to an hour. Then with the husks still on, pull off the brown silks at the end and put the ears in the oven on 350 degrees and bake for 30 minutes. When done and you pull the husks off, all the silks come off with them and the corn is ready to slather with butter and salt or your favorite herb.

I prefer chili powder or just plain cumin and butter. Absolutely outstanding! Give it a try at your next cookout.