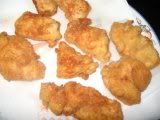 Fried Chicken has always been on of my favorite dishes, but frying is just not the best way to eat food anymore. This is so close to the taste of fried chicken you'll hardly be able to tell you cooked it in the oven. And one of the best things about it is not having to deal with the grease or the clean-up when you're done. I love the flavor of lemon pepper on my chicken but if you want just plain ole' country fried chicken, omit the lemon/pepper seasoning.
Oven Fried Chicken With Lemon Pepper gravy
Sprinkle 1 teaspoon garlic powder over chicken and place in a ziplock bag. Let sit at least two hours in fridge or overnight. I let mine sit overnight.
PREHEAT OVEN TO 425

Place 1/2 stick butter and 1/4 cup vegetable oil in a shallow baking dish and put in a 425 degree oven to get hot.
(Make sure the pan is large enough to accommodate all the chicken pieces without any of them touching each other and make sure the oils are good and hot before you add the chicken pieces)


Combine 1/2 tablespoon paprika, 1/2 teaspoon pepper, 1/2 teaspoon sea salt, and 1 cup all-purpose flour in a large ziplock bag.
Rinse chicken parts and pat dry with paper towels and place in bag with flour mixture. Shake well to coat all pieces.
Remove hot pan from the oven and arrange the chicken in the pan, skin side down,

making sure none of the pieces touch each other.

This is an important step to make sure the meat stays crisp and doesn't make any steam.
Place in the oven and bake for 30 minutes, turn chicken so that the skin side is up and continue baking for 20 to 30 minutes more, until nicely browned and juices run clear.Remove to a platter and let cool at least 10 minutes. Make gravy.
Lemon Pepper or Country Gravy
Scrape baking pan and place 3 Tablespoons of the accumulated cooking fat and browned bits into a sauce pan. Add 1/2-2 tablespoons lemon pepper seasoning.
Stir in 3 Tablespoons flour and cook 1-2 minutes until well combined.
Stir in 2 cups cold milk and continue cooking and whisking until gravy boils and thickens.
Cook about one minute. Season with salt if necessary.
NOTE: If making plain country gravy, omit the lemon pepper seasoning and add salt and pepper to taste.