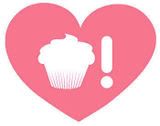 And you will too. They're a cupcake with the icing inside instead of on top! Actually it's a cheesecake filling. You can use this recipe for the cake or use a cake mix of any kind. The cheesecake filling can also be flavored/tinted to any color desired. Flavor the white with coconut or use red food color( to make pink) and strawberry flavoring for Valentine's day, Lots of possibilities.Even a white cake mix and chocolate flavored filling. Just mix in a teaspoon of cocoa or some melted chocolate chips into the filling. Have fun with this one!
MOON ROCKS (350-35 minutes)
1 1/2 cup flour
1 cup sugar
1/2 cup cocoa
1 teaspoon baking powder
1/2 teaspoon salt
1 cup water
1 tablespoon white vinegar
1/3 cup oil
1 teaspoon vanilla
Mix all together and fill cupcake tins 1/2 full. Add 1 teaspoon
filling to each cupcake and top with rest of cake mixture.
FILLING: Cream together, 1 pkg cream cheese, 1 egg and
1/2 cup sugar
NOTE: When I make these, I use the "Texas size" muffin tins and it makes exactly 1 dozen perfect cupcakes.