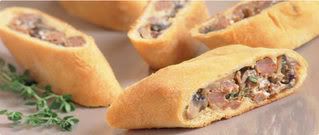 Here's a great finger food for the guys on New Year's day to munch on while watching the game.
Some condiments can be added for dipping such as picante sauce or salsa, hot mustard, mayo, or even a thick white gravy.


MUSHROOM SAUSAGE STRUDEL
1/2 lb. mild or hot ground pork sausage
1/2 lb. mushrooms, chopped
1/2 tsp. dried thyme, crumbled
1 tbsp. Dijon Mustard
1/4 cup Sour Cream
1 package (8 oz.) refrigerated crescent rolls
1.Preheat oven to 350°. Place rack in upper third of oven.
2.To make filling, in a medium nonstick skillet, sauté sausage over moderate heat, breaking up with a spatula until cooked through and crumbled. Drain off fat. Add mushrooms and thyme and sauté over high heat until all liquid has evaporated and mushrooms begin to brown, about 5 minutes. Remove from heat and stir in mustard and sour cream.
3.Remove half package of rolls and place on a lightly floured board. Press together at perforations to seal the dough together.
4.Spoon half the filling down the center of pastry. Fold pastry over and roll up. Crimp ends.
5.Transfer to an ungreased baking sheet, seam side down. Repeat with remaining filling and rolls.
6.Bake for 14 to 18 minutes or until golden. Remove from oven and cool slightly.
7.Transfer to cutting board and slice into 1-in. pieces.